The Samsung Soul SGH-u900 is a sleek, solid, and powerful handset with a unique touchpad which is intuitive and easy to use. Its features are respectable and satisfying.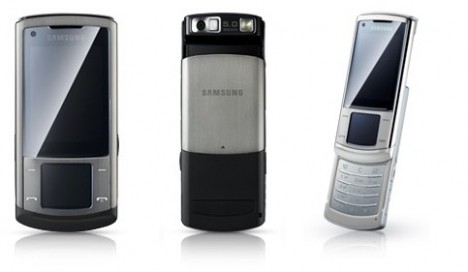 Design
SGH-u900 has a solid, firm feel in the hand and the slider mechanism is sturdy. The phone clicks into place in either position. That makes it possible to open and close it with one hand. The Soul is thin (4.16 x 1.94 x 0.51 inch) and lightweight (3.95 ounces).
The phone comes in 2.2-inch display and supports for 16 million colors. The icon-based menus are attractive and intuitive.
SGH-u900 comes in a square (1.25-inch diagonal) touchpad that features lighted icons in place of buttons. The icons morph depending on which of the phones mode, such as four user-defined shortcuts in standby mode, while become directional navigation arrows inside the menus.
There is tiny camera that can be used for video calling above the display.
Features
SGH-u900 is able to store 1,000-contact phone book with details for seven phone numbers, an e-mail address, and notes, while the SIM card holds an additional 250 contacts. The phone book can be paired with a photo and one of 20 72-chord polyphonic ringtones.
Other essentials features of this phone include vibrate mode, text and multimedia messaging, alarm clock, calendar, voice recorder, memo pad, task list, world lock, calculator, unit and currency converter, timer and stopwatch. There are also full Bluetooth with a stereo profile, USB mass storage, a RSS reader, PC syncing, a speakerphone, Document Viewer for Office and PowerPoint files. However, this phone lack of voice-dialing commands, GPS and Wi-Fi.
The Soul comes in 5-megapixel camera which can take pictures in five resolutions and three quality settings. The camera function has capability to perform autofocus, face detection, and antishake. The camera function comes with a wide range of editing features that rival a standalone camera.
The phone can also be used as camcorder which is able to record clips in two resolutions with sound, and there are 100MB of memory for safekeeping and additional storage using the memory card slot.
The music player is generic but it also offers an equalizer, track rating, repeat and shuffle modes, and playlists. The music player supports multiple file types including MP3, WMA, and AAC+. Moreover, it comes with an FM radio.
Performance
SGH-u900 features tri-band GSM (900/1800/1900). Most of the time voices are clear and the signal is strong.
The phone supports HSDPA and 3.5G networks. The battery can last 4 hours talk time and up to 16.6 days standby time. According to FCC radiation tests the Soul has a digital SAR rating of 0.24 watt per kilogram.