Samsung and Sprint have teamed up to announce the availability of Samsung SPH-M330 at Sprint stores. The affordable phone with slider form factor design is targeted to the budget conscious consumers. The slider phone has been equipped with a few advanced features like web browsing capability for improving the mobility experience.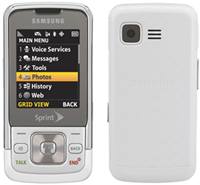 Featured with a 2-inch TFT display, Samsung SPH-M330 is also equipped with a 0.3-megapixel camera with 4x digital zoom. It comes with a 960mAh Li-Ion battery that supports up to 6.3-hour of talk time, integrated with threaded text messaging feature that allows users to keep track of their communication, supports Sprint Picture Mail, Hearing Aid Compatibility, Wireless backup and screen saver download. In addition, it is Bluetooth enabled, supports 3G connectivity and GPS.
Samsung SPH-M330 with measurement of 3.7 x 1.7 x 0.6-inches and weighs around 3.2oz is available at Sprint for free with a two-year service contract after a rebate.