Samsung has announced its new ultra-slim and easy-to-use 12.2 mega-pixel point-and-shoot digital camera – Samsung TL100, which measures only 16.6mm thick, featuring large 2.7 inch LCD screen, high-quality Samsung lens with 3x optical zoom and new Smart Auto feature that able to select 1 of the camera's 11 scene modes to best suit the environment.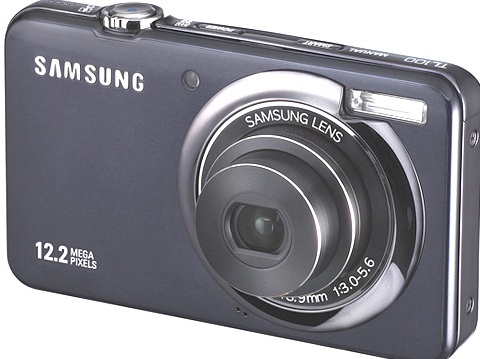 Impressive Features Of Samsung TL100:
New Smart Auto automatically select one of the TL100's 11 scene modes which best match the scene
Samsung's proprietary Smart Album program automatically organizes the user's digital images, allowing users to search through the various files based on the date or month the image was taken
Digital Image Stabilization (DIS) technology helps reduce the blur found in pictures
MPEG-4 video recording (maximum SVGA 800×592 resolution at 20fps)
Embedded Function Description program provides users with a brief and easy to understand description of each setting when scrolling through the camera's menus
Face Detection automatically recognizes up to 9 faces in a frame
Smile Shot only allow an image to be taken while recognizes a smile
Blink Detection improves a user's ability to capture a photo with everyone's eyes open
Beauty Shot mode automatically retouch imperfections on a subject's face, including blemishes and dark spots
"The TL100 exemplifies style and simplicity," said Tony Sorice, vice president of Sales and Marketing for Digital Imaging, at Samsung Electronics America. "This is an attention grabbing digital camera, not only because of its brushed stainless steel body and slim profile, but because of the advanced features that it brings to the user's fingertips, which make taking a digital photograph easier than ever."
The new Samsung TL100 digital camera is expected to be available in Spring 2009, but no words on its price yet.