Samsung Electronics has announced the availability of its new full touchscreen phone which named as Yuna Haptic at the 2009 World IT Show. The phone adopts Korean figure skater, Yuna Kim as an official AnyCall cell phone model. The Yuna Haptic has been designed to include 'My Diary' for editing and update the scheduler with information such as restaurant listing, movies and etc in the form of a blog.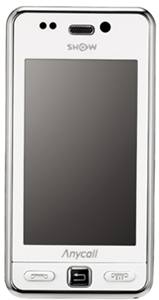 Along with a 3-megapixel camera with auto-focus function, Yuna Haptic is also integrated with innovative technology for automatically enabled or disabled the sensibility of the screen which depending on the distance between the face and the phone.
Available in snow white, sweet pink and noble black, the phone is priced at $475.