As previously we just talked about the M-Tube UMPC (Ultra Mobile PC) prototype by Taiwan Science and Technology Advisory Group, now the specification of latest UMPC by Samsung has been disclosed. The new model, known as SPH-9200 is a successor from SPH-9000 that able to continue the momentum to grow the Samsung brand name in the Ultra Light portable PC market.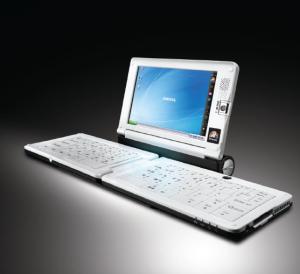 Powered by a Via C7-M processor and backup by a 512MB RAM, the ultra portable gadget is able to run Windows XP Home Edition for proper task handling and operation. For those that familiar with Windows OS, this could be a good choice that they don't have to learn Linux OS or other simplified embedded OS just to get their first hands on the new gadget. Besides, it has an internal 30GB huge hard drive for multimedia storage. Some of other features that worth to be mentioned here are the 5-inches 800 X 480 LCD module with high resolution support in interpolated mode, a built in 1.3M camera and some legacy interfaces support such as Ethernet LAN, USB ports, sim card slot and etc.
What is more eye catching is its foldable keyboard that can be used as a full-size QWERTY keyboard when extended. Furthermore, it is integrated with few optional wireless network connectivity such as WiFi, WiBro and HSDPA for seamless connectivity on the move. No pricing and available date info has been released yet. But for sure it will provide better choice to the consumers in terms of various models and functionality of UMPC in the market.