SANYO has released its two new high-end digital camcorders – SANYO VPC-HD2000A (vertical form factor) and VPC-FH1A (horizontal), which the company claims as the world's first camcorders that support new iFrame video format – the next generation computer-friendly video format (designed by Apple) which allows users to dramatically speed up the process of importing, editing and sharing movies by keeping the content in its native recorded format while editing, aiming to enhance your video editing and sharing experience.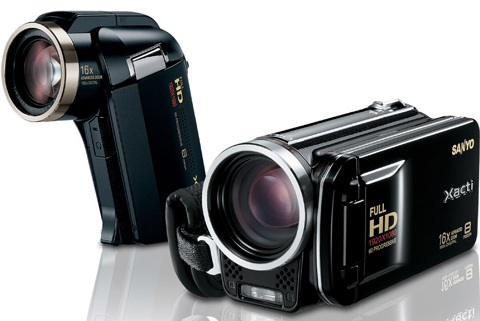 Features Of SANYO VPC-HD2000A And SANYO VPC-FH1A:
3-inch wide LCD Monitor (SANYO FH1A); 2.7-inch wide screen display (SANYO HD2000A)
10x optical zoom for photos and 16x advanced zoom (includes more area than standard zooming) for video
Digital Image Stabilizer for video and stills shot
iFrame video format H.264 960 x 540 pixels (30 frames per second)
Record full 1080p (1920 x 1080 pixels) HD video at 60 fps
Capture 8 megapixel digital Photos and high-speed sequential shooting at 12fps
High Speed Recording/Super Slow Motion Playback (240/600fps for 1/4 or 1/10 playback)
Face Chaser technology detects up to 12 faces for optimizing focus / aperture settings
Three-Dimensional Noise Reduction (3D-DNR) technology offers a significant improvement in video clarity by reducing random signal noise
Super fast start-up and recording in as little as 1.7 seconds
Built-in SD/SDHC memory card slot
"SANYO is proud to be the first manufacturer to offer camcorders that are compatible with the iFrame video format. This format offers a major breakthrough in reducing the time it takes for consumers to import, edit and share high quality video," said Tom Van Voy, General Manager for Consumer Products Group at SANYO North America. "In addition to this new video format, our Dual Cameras also offer the ability to shoot 8-Megapixel photos as well as a number of video modes, including Full HD 1080P/60fps, making them the perfect choice for sharing high quality movies with family and friends, for video bloggers or budding videographers."
The new compact SANYO VPC-HD2000A and VPC-FH1A camcorders that offered in black color are now available for around $600 and $500, respectively.