Sanyo has announced the upcoming availability of new high-performance, pocket-sized dual camera, named as SANYO Xacti VPC-PD2BK, which able to capture 10 megapixel photos and full HD (1920 x 1080 pixels; 30p) video and stores the files into SD/SDHC/SDXC (up to 64GB) memory cards. The Sanyo VPC-PD2BK is featured with a 2-inch display, mini-HDMI port, integrated USB connector, 37mm wide-angle lens with 3x optical zoom, and embedded software for easy, quick sharing on popular social networking sites.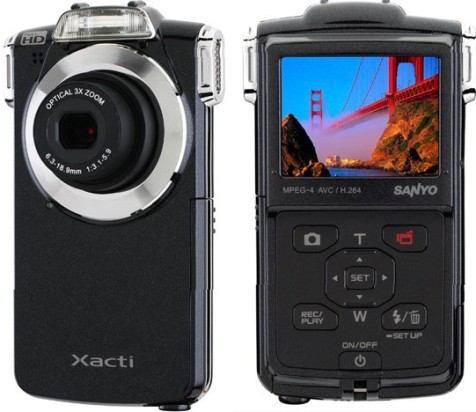 "The new PD2BK delivers amazing 10MP photos and 1080 archive quality video with 3x optical zoom," said Tom Van Voy, Vice President and General Manager for Digital Solutions Division at SANYO North America. "Now users have both a convenient, ultra easy form factor and archive quality photos and videos that they will be proud to display on their HDTVs or share with friends and family from their computer."
The new ultra-compact, lightweight SANYO VPC-PD2BK dual camera which measures 2.48(W) x 0.87(D) x 4.36(H) inches and weighs just 3.7 ounces is slated to be available in coming September for around $170.