Have you looking for an application which can monitor the network resources? You may try out SoftPerfect Network Scanner. SoftPerfect Network Scanner is a free, multi-threaded IP, NetBIOS and SNMP scanner with a modern interface and several advanced features. This application does not required any installation and able to execute from the USB drive. With SoftPerfect Network Scanner, it able to ping computer, scans for listening TCP ports and displays which types of resources are shares on the network. Additionally, it also allows the user or administrator to mount shared folder as network drives and explore it.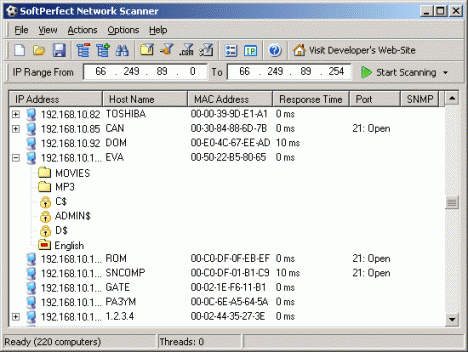 Other features of SoftPerfect Network as below:
Not require administrative privileges.
Able to detects hardware (MAC) addresses even across routers.
Able to detects hidden shared folders and write accessible shares.
Able to provide internal and external IP addresses.
Retrieves currently logged-on users.
Able to launch external third party applications.
Able to exports the scans results to files such as HTML, XML, CSV and TXT
Supports Wake-On-LAN and remote shutdown.
It is absolutely free and no required installation
Does not contain any adware, spyware and malware.
Download SoftPerfect Network Scanner.