Many users like to consolidate all their other email accounts, contacts, etc into Gmail for easy coordination and reference. If you are a Gmail devotee, ScheduleOnce's Firefox add-on, Meeting Scheduler for Gmail, is worthwhile looking at if you want to add in additional secretary features in Gmail to assist you on meeting scheduling and coordinating.

Available free, Meeting Scheduler for Gmail is another useful Firefox extension that can seamlessly integrate with Gmail and help users to schedule meetings and coordinate with invitees on their attendance or rescheduling if it is necessary. Once this plug-in is installed, Gmail users will notice the ScheduleOnce control is added to their Gmail's sidebar. Users can start scheduling meetings by clicking on "Net Meeting" without having to leave their Gmail account. Users will be prompted with a new pop-up requesting users to enter the meeting information such as meeting date, duration, meeting subject and also the invitees' email addresses as shown in the photo below: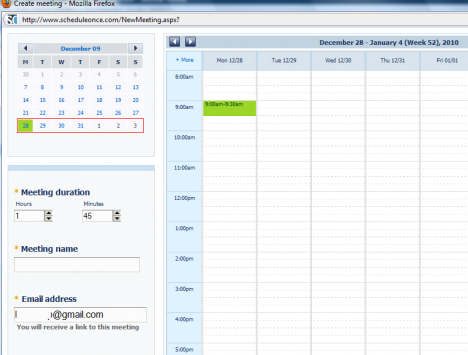 Invitees will receive an email from the meeting organizer about the upcoming meeting. They can reply with their tentative availability so that the organizer can evaluate the invitees' availability and reschedule accordingly. Users who have Google Calendar account can also connect ScheduleOnce's Meeting Schedule to their GCal account for better event planning and scheduling.
Let's have a look at the introduction video: