For Gmail lovers, you probably have noticed that it is still lacking of email alert feature which can alert you once you have new messages arriving into mailbox. Instead of logging and checking the mailbox from time to time, now there is an email alert system, named as Scott's Gmail Alert that can notify you once the new messages arrive.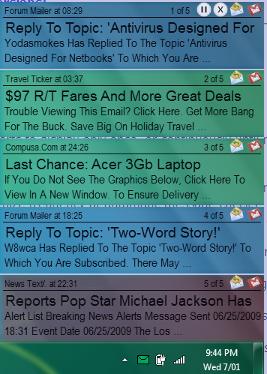 Scott's Gmail Alert is a free email alert system for Gmail accounts and it can monitor up to five separate accounts simultaneously. In order for it to monitor your Gmail account, you will need to install and launch it then configure your gmail login name and password. Once completed, it will stay quietly at system tray to monitor for any new messages arrival and alert you accordingly by displaying a small notification window on top of system tray. The notification window provides you a button to reply the mail directly without the need for you to login into Gmail. Besides, if you would like to send mail to someone else, you can use quick email feature to send the mail without logging into it as well. There are lot of options that you can configure based on your preference, like number of notifications to show simultaneously, display notification once or continuously until marked as read, show unread message count, set sound setting for new messages arrival, alert with different color from special email accounts, senders' email addresses are auto added to Scott's Gmail Alert contact list and you can even send quick email based on the list, login to Gmail automatically by using default browser and etc.
Scott's Gmail Alert 2.7 is free for download and it works well for Windows XP/Vista/7. If you are using Windows XP SP2 or lower, the message may not be able to display properly at the notification window but instead,it will appear like this:

To solve this problem, you need go to Control Panel -> Display, under Appearance tab, click Effects button and tick "Hide underlined letters for keyboard navigation until I press the Alt key". For Firefox users, you need to install the latest .net assistant plugin in order for Scott's Gmail Alert to load your Gmail.