Search.io is a cool and innovative search engine that simplifies the searching by grouping it into categories. It narrows down the searching by individual categories such as music, images, books, blogs, news, font, receips, jobs, torrents, tutorial, web 2.0 sites and etc.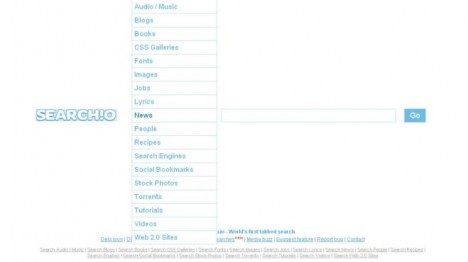 Search.io has built in with a simple user interface which does not require any training. The users can start a searching by point the mouse to search engines and select the categories then key in the search keywords. After that, the result will show the relevant website in multiple tabs on single pages. It allows navigate between the tabs by clicking on the tabs or use the shortcut key – Alt + Tab Number.
Others features of this search engine is many, such as it is a full web service which do not any installation, not required any member registration and free to use as long as users able to access it.