In today's knowledge-based society, the way people work is changing substantially. People in the service industry, especially, no longer require a permanent office to carry out their duty or do their work. Advances in technology mean vital information and communication can be stored in a notebook and carried everywhere. The office can literally be carried in a notebook. However laptop thefts are a common problem which may mean more than just the loss of property. The loss in company information and contacts may cost more than the value of the notebook. While all measures may have been taken to prevent notebook thefts, the latest technology to safeguard data loss can give owners peace of mind. FxSecure Key is an anti-theft device which protects valuable date as well as increases the chance for recovery of the notebook through hardware positioning. Your notebook can be tracked in real time.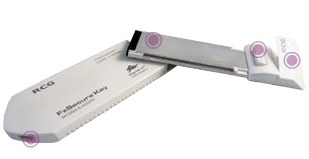 How does FxSecure Key work? Files can be protected against unauthorized access using this hardware. On-the-fly encryption ensures that only users who attach the key and log in correctly can have access to all files, drivers or notebook directories. Measuring only 54 x 125 x 15mm, the small but reliable FxSecure Key can fit a standard PCMCIA slot. Besides, users are notified or alerted about any unauthorized login and action can be taken immediately to raise the alarm or prevent the theft / sabotage. Users can even control functions such as data deletion, formatting, shutting down or notebook locking from remote distances via SMS. All these functions can be activated although the main power is not turned on. FxSecure Key also supports Internet access for the traveler on-the-go any time and anywhere by acting as a wireless modem card.
With such preventive and security measures in place, criminal acts are made more difficult and important data in a notebook can be safeguarded.