DialMyCalls is the web service that allows everyone taps into the power of sending voice messages out to the entire phone lists within seconds. This service does not required expensive equipment or calling servers and the users can send their own voice message from 2 to 20 thousand phone numbers within a few minutes.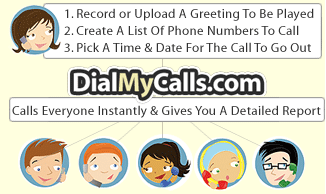 There have several usages of DialMyCalls such as send all reminder calls for special events, promotions, and send out daily, weekly or monthly announcements.
The below is the main key features of DialMyCalls:
Free To Use –  Send up to 1 group call per day to 25 people or less, Messages must be 30 seconds or less in length and calls branded with a "Powered by DialMyCalls message".
Easily Record Own Voice Message – Create own custom message in a couple of minutes.
Control of the caller ID Setting – Able to have the user own home, cell phone, or business phone number show up on their call recipients' Caller ID system. This is available on both the free and premium services, so everyone can take advantage of this great feature.
Voice Mail Detection – Able to detect 99% of all answering machines & voice mail services. If  call ends up reaching an automated answering system, the system will know to wait and leave the message in its entirety.
Email Voice Message To Callers Also – If user enter email addresses along with thier contacts' phone numbers, they can also have thier voice message emailed to their contact. This is a popular feature and great for those people who do not answer their phone or check their voice mail often.
Detailed Call Reports – With every call the user send, they will have access to a detailed call report with the results of every individual call. From there they able to tell whether the call was answered live, went to voicemail, had an error, and many other specific call details.
The user also can upgrade to premium service if free service is not enough. The premium service offers with no call limits, no message restrictions and no branding. To use premium service, the user need to buy the credit packages from DialMyCalls.com.