Instead of leaving a message on your friend's wall or sending him an email, probably you want to leave a voicemail (VMS) to your buddy in Facebook and wish him a Happy Birthday. There are a few free and interesting apps on Facebook which allow you to send voicemail to individuals or groups. Check them out if you want to send voicemail messages:

VoiceMail
VoiceMail is one of the popular Facebook applications that allows users to send voice messages to their Facebook friends. This application was developed by Free World Dialup (FWD). It is easy to use. With a microphone and a headset, users can easily convey their voice message to another friend who has the VoiceMail application added. The downside of this app is the voice message is limited to 20 seconds in length only.
TringMe
TringMe is another application that allows your profile friends from Facebook to send you a voicemail directly from the site. You can choose to receive the voice message directly from the web or route it to your mobile phone, your email or even Gtalk Messenger. To get started, you need to sign up with TringMe and get it added to your Facebook. The diagram below shows how the application works: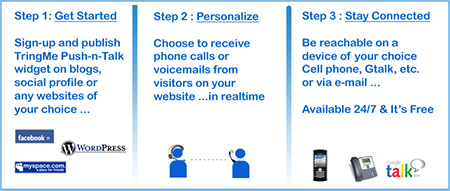 Voicetag
Voicetag is quite a new voicemail application on Facebook. The way the app works is a bit different. Instead of using a microphone and headset, what you need to do is select a profile friend in your Facebook, add some text message (optional) and thence enter your local number. Voicetag will thence call you and you can leave your voice message in Voicetag. Voicetag will notify the recipient via Facebook and the recipient can play the voice message using his/her browser. There is no limitation on where the application can be used. Users also can use this application to start ad hoc group/conference calls amongst Facebook friends. Let's watch some sexy girls demonstrate this interesting application:
Apart from the three applications above, there are other Facebook apps that allow users to make internet calls, send instant messages or leave voice messages such as Telephone and Free Voice Mail. Voki Voice Avatars is another unique voicemail tool whereby you can record your voice and customize it with Voki Voice Avatars. You can use this application to send out voice messages with some funny animation characters to friends.