When the world is using Novell NetWare network operating system (NOS), the NetWare File System keeps track and make copies of each and every deleted, altered, edited or modified files and documents as long as there is space on the hard drive, and allows users to salvage any files and folders that they accidentally deleted or modified. Windows Server NT and Active Directory networking doesn't provide such a convenient feature though.

Instead, Microsoft introduces Shadow Copies for Shared Folders in Windows Server 2003, which works only on file server, and Previous Versions in Windows Vista, which enables on standalone computer as well. Volume Shadow Copy or Volume Snapshot Service (VSS) automatically created incremental (only differences are recorded) periodic snapshots or backup copies of files and folders at a specific point in time at regular interval.
However, Shadow Copy or Previous Versions only backs up at specific interval, and not capturing any changed files immediately. Thus if a document is changed several times between two snapshots, only the final change version will be saved, and users can't revert, retrieve, get back or recover the versions of file in between. However, at least Shadow Copy works, and it's better than no protection at all. But, most Windows operating system doesn't actually has Shadow Copies or Previous Versions feature, especially when running as standalone system. All Windows operating system prior to Vista – XP, 2000, NT, Me, 9x, and Vista Home Premium, Home Basic and Starter editions does not support any user data files recovery option other than Recycle Bin.
To allow all users of Windows to have the protection against accidental deletion or modification of files and documents, Mogware develops FileHamster as an alternative to Previous Versions. FileHamster, a realtime file revision solution tracking tool, provides real-time backup and archiving of files while users such as typists and artists are working on them. FileHamster watches and monitors specific files or folders that have been selected and automatically create incremental backups whenever those files are modified. FileHamster also supports storing notes about changes that have been made, so users can easily find a specific revision, annotate the version, and has detailed account of changes been made.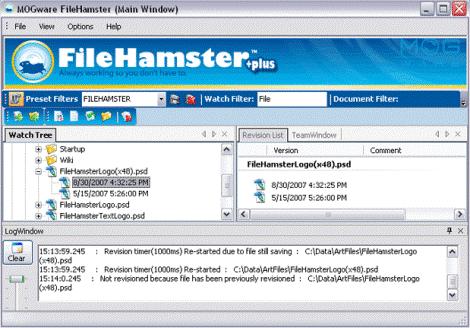 Download FileHamster.
FileHamster is free for basic version. FileHamster supports Windows 2000, XP and Vista, and requires Microsoft .NET Framework 2.0. There is a paid version FileHamster Plus which costs $19.95 and adds features such as filters, offline libraries, full UNC support and etc. FileHamster Plus can be purchased here.