To copy and save the current screen display of your computer is quite easy via the Print screen (often abbreviated Prt Scr, Print Scrn, Prt Scn, Prt Sc, or Prnt Scrn) key on your keyboard. However, to save the image of the current screen on your mobile phone is not that straight forward. You might need to install some mobile apps to get the work done. Make life easier, ShakeAndSave offers you a pretty fast and straightforward way to get the print screen image. With this ShakeAndSave installed, users just need to shake their mobile and the application will automatically save the current screen as image.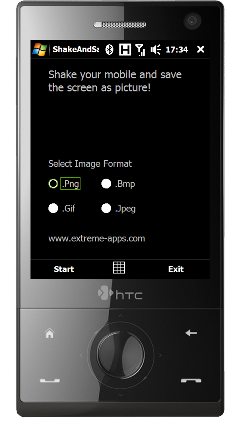 ShakeAndSave is a free print screen app for Windows Mobile. It supports 4 image formats, e.g. png, bmp, gif and jpg. Users can choose the format they want the image to be saved as. Users can thence shake their phone and get the print screen image whenever they need the screen shots. Users will be prompted on whether to save or discard the screen shot. This program works well with HTC Touch Diamond/Pro,HTC Touch HD or Samsung OMNIA. One last thing, make sure you hold the phone firmly before you start shaking it!
Download ShakeAndSave via the link here.