With the increase popularity of Blu-ray technology, there is always demand to have higher capacity media storage and in view of such situation, Sharp has just announced its first triple-layer Blu-ray disc media (write-once) that can store up to 100GB, about twice as much as what existing Blu-ray media disc can cater for. Named as VR-100BR1, it is compliant to BDXL format which was recently announced by the Blu-ray Disk Association targeted for those that would like to maximize the physical media disc capacity for storage purpose.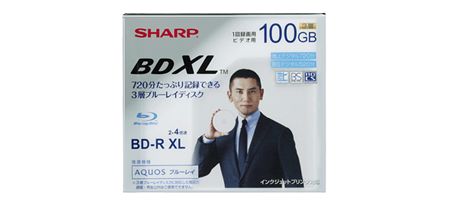 The new format allows media recording for terrestrial digital TV broadcast with up to 12 hours and whereas for BS digital broadcast, it still capable to store for 8.5 hours. Thanks to its extra layer that provides additional media storage space. Externally, the media disc surface is protected by coating layer that able to prevent from any accident scratch. However, in order to be able to utilize such ultra high storage media, it needs to have a compatible Blu-ray player to recognize and write new data into it.
No pricing information yet, the media disc will be available by end of this month. And in conjunction with these, the Japanese maker has also announced the world's first BDXL compatible drives, BD-HDW700 and BD-HDW70 which will be commercialized at the same time.