In addition to LG Optimus 3D, Sharp has officially announced its new sleek, elegant smartphone, named as Sharp Lynx SH-03C, which company claims as the first glasses-free 3D smartphone running on Google Android 2.1 OS, combining a new innovative, 3.8″ ASV LCD display, lightning-fast HSPA+ connectivity, 9.6 megapixel camera with auto-focus allows users to capture pictures in 3D, and 720p HD videos recording to enhance 3D experiences.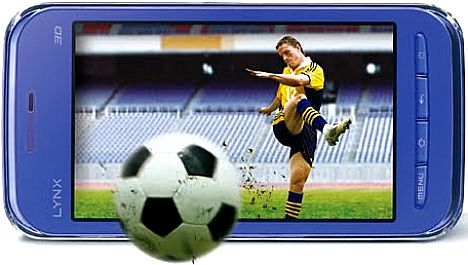 Features of Sharp Lynx SH-03C:
3.8-inch (480 x 800 pixels) touchscreen ASV display with WVGA
9.6 megapixel camera with CCD sensor
720p HD video recording (1280 x 720 pixels)
Wi-Fi, Bluetooth, and GPS connectivity options
Capable of 3D content without 3D glasses
Support microSD card slot
Support for GSM/GPRS/EDGE and UMTS/HSDPA network
Supports 3D mode
Runs on Android 2.1 operating system
Using vertically zoned parallax barrier technology, users can view 3D with the naked-eye on Lynx SH-03C. Besides that, users also can convert 2D photos to 3D by software processing and watch mobile TV in 3D.
The new ultra-slim and lightweight Sharp Lynx SH-03C Android smartphone which measures 123 x 62 x 13.4 mm and weighs only 140 grams will be available in three colors – purple, black, and white through leading retailers.