Google URL Shortener is a free service from Google which shortens the long URL or link location into a shorter form. The shorter URL with lesser characters is important for micro-blogging service such as Twitter which has limitation on number of text that can be posted in a single tweet.

Google URL Shortener has been used in a variety of Google products since its launch in December 2009, though users can only utilize the Google URL Shortener indirectly through Google services which incorporates the URL shortening feature.
For example, initially users who want to shorten the URL with goo.gl can only do so via Google Toolbar to share a link, or through FeedBurner's Socialize to post feed items to Twitter. The Google URL Shorterner has since been integrated into many other Google products including News, Blogger, Maps, Picasa Web Albums, and Moderator, but there is no way to generate the shorten URL based on goo.gl directly from a website, until now.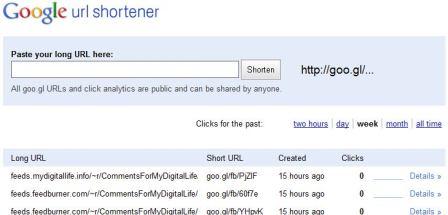 Google is officially launching Google URL Shortener to everybody, whether he or she is any Google service user or not. No Google account is required to use the Google URL Shorterner to create or generate short links or short URLs. However, all goo.gl URLs and click analytics are public and can be shared by anyone. And in order to view the short URL history with long URL mapping, user is required to sign into Google account.
Shorten link with Google URL Shortener at http://goo.gl/.
The main advantage of Google URL Shortener is stability, longevity, reliability, and speed of resolution of short URL to redirect to long URL. Most URL shortener services on the Internet faces a common issue, how to monetize and earn decent profit to sustain the service, or to get some revenue just to enough cover the costs. The lack of sustainable business model have made many URL shorteners bite the dust and shutdown the service, often without warning or notice, bringing together the short URLs hosted to a point of no return – not working anymore. Due to lack of resources, the speed and reliability of the services are often compromised too.
Google URL Shortener is like to escape the fate, as it's backed by Google. In fact, Google promises the following features for its URL Shortener service:
Stability: To have near 100% uptime.
Security: Automatic spam detection based on the same type of filtering technology in Gmail.
Speed: Continuing improvement of speed.
Minimalist and clean user interface.
For Google users who login to Google URL Shortener service, it's possible to see a list of URLs you've shortened in the past, with a "details" which leads to public, real-time analytics data, complete with traffic over time, top referrers, and visitor profiles.