For iPhone or iPad's soft keyboard, you may realize that it doesn't show exactly if you are currently in upper or lower case mode in which by default, it only shows upper case all the time. This is quite confusing and has always caused inconvenience to end users especially those that are heavily relying on iPhone or iPad for email or text messaging. And now with a tweak from Cydia named as ShowCase, it resolves the shortcoming with ability to show the exact upper or lower case whenever users toggle or switch between them.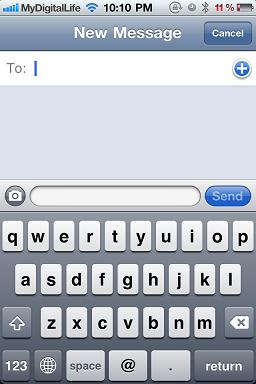 As usual, just head over to Cydia (assuming that you have already jailbroken your iOS devices) and under 'Search', type in ShowCase and it will list down the tweak ready for download. Once completed, Springboard restart will make it effective and ready for use. Take note that no new icon will appear but when you go to new message and type any character, tap on upper arrow sign will switch the display mode from upper and lower case or vice versa, making it clearer to all users if they would like to use the respective mode at any time.
No doubt this is quite a great tweak that show you the actual case and by now, you should able to prevent any incorrect upper/lower case character mis-type for more effective texting while on the move.