Download movies or huge files from Internet will take some time to complete and we can't really afford to just sit there and wait for the downloading to be finished. What we normally do is we tend to leave the computer in power ON condition to download the file until we are back from outside or wake up in the early morning, then only turn it off once the downloading process has completed. In actual fact the downloading process may only take 1 or 2 hours but you may end up leaving it ON for whole night. Have you ever thought to have a tool that can help you auto shutdown your computer once the downloading process is completed? Now here is a tool with the name of Mortens ShutDown which can help you shutdown your computer at a desired date and time towards green environment initiative.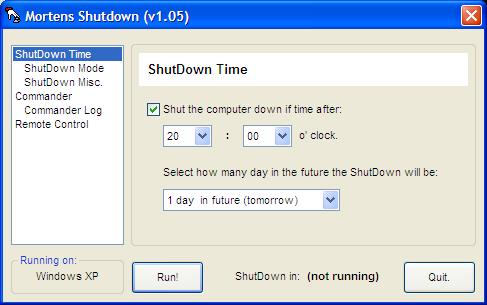 Mortens ShutDown is a freeware that is very to use. You can configure date/time and shut down mode as you preferred to shut down your computer. There are a few shut down modes being supported such as log off current user only, reboot, shut down, power off and hibernate. If there are any applications that can prevent your computer from shutting down, it will be killed automatically. To kill running applications, you can choose "wait for save" or "no wait", and also you can configure the tool to prompt you with a warning message few minutes before the shut down.
Mortens ShutDown v1.05 is absolutely free for download. If you feel it is useful to you, go and download it at here.