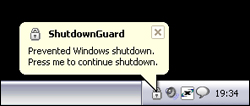 Normally installing or upgrading software requires windows to be rebooted in order for it to take effect. You may able to delay the reboot so that it will not prompt you immediately but some may not gives you the option and it will force you to reboot your windows within a minutes. If you are in the middle of downloading huge files or with a lot of applications being opened, you may need to re-download all over again and worst thing is you may potentially lost the unsaved data. This could be very frustrating and irritating as you need to go through the hassle to redo all over again, not to mention about unrecovery of important data. With ShutDownGuard installed, it can prevent windows from being auto rebooted and let you decide when to shut down your windows at your convenience time.

ShutDownGuard is freeware and it runs silently in background. Once the software upgrade has been completed and need you to reboot windows within a minute, it will be able to flexibly adjust and prevent windows from auto rebooting without any user intervention. You will see a notification pop up at system tray to inform you there is an attempt to reboot the windows. If you are not ready to reboot the windows by now, just ignore the notification and only reboot windows later at your convenience time. Otherwise, click on the notification to reboot the windows now.
ShutDownGuard version 0.2 only consume 70kB of your hard disk space, it is compatible to run with windows XP and Vista. Download and install it now so that you can have full control over your computer from auto rebooting after software upgrade.