The award-winning provider of Internet video communications for both the consumer and business user, SightSpeed has announced a partnership with Dell to deliver a simple and easy-to-use communications application that going to be bundled with latest Dell Studio notebook line, named as Dell Video Chat, aiming to enhance your communication experience.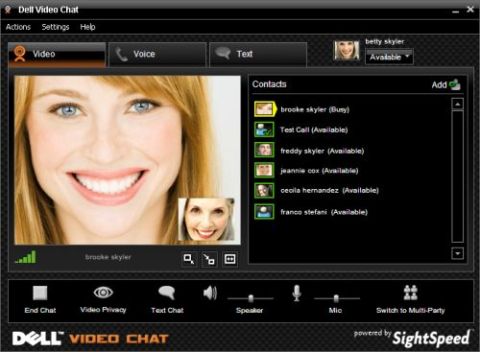 "Dell went out and got the best-of-breed video-communications service—SightSpeed—to be included in their newest laptops. This is as easy-to-use, wherever-you-go as it gets," said Peter Csathy, CEO of SightSpeed. "Their stamp of approval means that video conferencing is becoming a part of everyday communications and they picked the best company to provide it."
In addition, the Dell Video Chat application also can be downloaded as an "invitee" client program from SightSpeed's official website.
Highlights Of Dell Video Chat Powered By SightSpeed:
A completely redesigned and streamlined Dell user interface
Free, unlimited video, voice and text chat worldwide
4-Way Group Chat (voice, video or text)
Low-rate worldwide calling to ordinary phones – 2 cents per minute in the United States and Canada
5 minutes of free phone calling is included with every Dell system
The ability to purchase custom phone numbers and area codes
Presence indicators
Message Center: All video/voice calls Inbox
High-quality Video Mail recording of up to 3 minutes
Storage of an unlimited number of Video Mail messages
Notification of missed calls and receipt of Voice/Video mail and e-mail
Reporting of Video/Voice call history
"Dell is excited about the opportunity to provide enhanced video chat services to our customers," said Michelle Pearcy, director, Global Client Software Marketing. "The partnership with SightSpeed allows our customers to quickly and easily communicate with friends and family in a variety of ways by combining both text and video chat features into a simplified customer communication experience."