Posted:
November 13, 2009
/
Under:
Operating Systems
/
By:
My Digital Life Editorial Team
Microsoft Office Starter 2010 is an edition of Office productivity suite which will be pre-loaded by OEM (Original Equipment Manufacturer) on new computers and is available exclusively on new PCs. Office Starter 2010 will replace Microsoft Works, which currently been pre-installed on new computers shipped. Office Starter 2010 is a reduced-functionality, advertising-supported version of Office 2010 that intend to provide new PC owners with immediate exposure to the Office 2010 experience on new PCs right out of the box.

Office Starter 2010 includes only Office Word Starter 2010 and Office Excel Starter 2010, with the basic functionality for creating, viewing and editing documents, but offering a consistent user experience and user interface such as Ribbon menu, and end-users can upgrade Office Starter 2010 to a fully comprehensive version of the Office suite at ease.
Microsoft has started to send out invites to Office Live Workspace users to join the public beta of the new Office Starter 2010 SKU product. Note that the Office Starter 2010 Beta should not be confused with Office 2010 public beta, which will be available soon within November 2009. Microsoft had sent out email updates to Office 2010 Technical Preview and Click-To-Run Technical Preview participants, which announced the closure of respective Connect group, and confirmed the arrival of publicly available Office 2010, SharePoint 2010, Project 2010 and Visio 2010 Beta. Besides, there is hack to instantly join Office Web Applications, the web-based version of Office.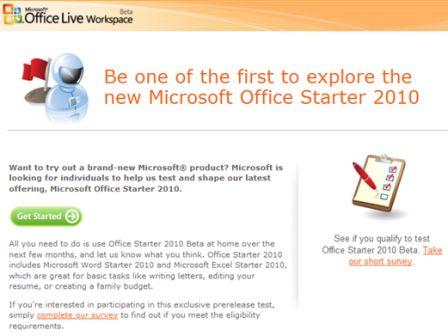 For Office Starter 2010 Beta, the invite is actually not an invitation to register or join immediately. Instead, interested users are invited to nominee themselves to Microsoft Office 2010 Starter Program by taking a short survey and submit the nomination form. Not all registrants is guarantee access to Office 2010 Starter program. Users who qualify for the beta program will be informed in the next few weeks and be provided instructions on how to register, download, and install the product.

The survey for Microsoft Office 2010 Starter Program nomination form can be accessed here: