Your busy schedule might make you forget important events, meetings or tasks to do. To prevent this oversight from causing any serious damage, perhaps it is time to seek help from a Personal Information Management (PIM) program. Windows OS offers Microsoft Outlook as a PIM tool. But if you think this is not tailored to your preference or it is too complicated for you, it could be worthwhile looking at the simple but feature-rich PIM tool, Osmo.

This free and tiny PIM application, Osmo, offers all the necessary features of a personal organizer. It incorporates calendar, task manager, address book, reminders, alarm and notes modules for users' basic information management. This program doesn't come with a fancy interface; the interface is simple, neat and user friendly for browsing. Users can perform nearly all operations using the keyboard and they can configure the program to suit their specific needs. The general features of Osmo include: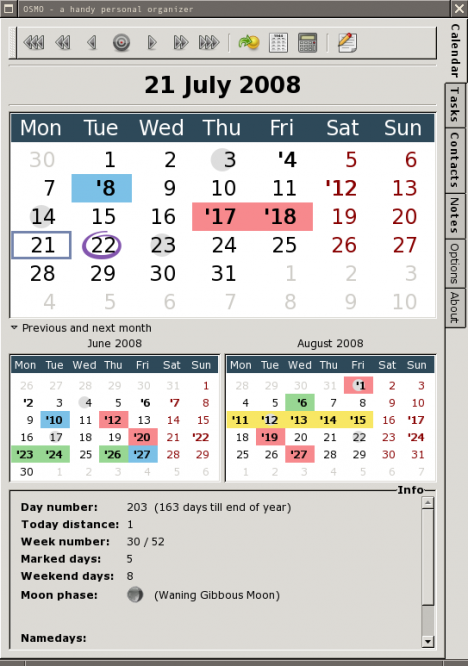 Calendar:
day notes with text attributes (italic, bold, underline, etc.)
date calculator
built-in full year calendar
compact mode
auxiliary calendars for next and previous month
basic iCalendar support (import/export)
integration with Tasks and Contacts modules
Tasks:
advanced reminder
alarm actions per task (commands, sounds, etc.)
tasks list printing
category filter
due date modification on the fly
basic iCalendar support (export)
date dependent task coloring
Contacts:
robust search functionality
birthdays browser
addresses location on the map using Google Maps
basic import/export filters (csv, xhtml)
Notes:
handy notes selector
category filter
optional encryption using user-defined password
text attributes (italic, bold, underline, etc.)
General:
compact interface
encrypted private data backup
Users who are interested and keen to try this application can download it via the link here.