Do you like to sing along when you listen to songs? Do you think you have what it takes to be the next singing sensation or idol? If you hear a song you like but don't know the lyrics, don't let this prevent you from singing your heart out. MiniLyrics is a powerful and fascinating lyrics viewer which can synchronize with certain media players and automatically display the lyrics of the songs currently playing, timed to music from the player. With MiniLyrics, users can sing along and follow the lyrics word-by-word like what you usually do in Karaoke.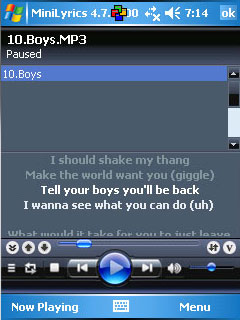 Minilyrics is a shareware with an unexpired trial period for users who want to give it a try. However, users who do not pay $19.95 need to bear with some nag screens that occasionally prompt out when downloading lyrics or during startup. Besides viewing lyrics for their favorite songs, this application allows users to customize their preferred skin, font, colour and window size to something they are comfortable with.
MiniLyrics is compatible with an amazing list of 19 players, e.g. winamp, Windows Media Player, Foobar2000, Apple iTunes, RealPlayer, VLC Media Player, Quintessential Player, Musicmatch Jukebox, MediaMonkey, The KMPlayer, JetAudio, Yahoo Music Engine, J.River Media Center, J.River Media Jukebox, XMPlay, AIMP2, Helium Music Manager, AlbumPlayer and BSPlayer.
MiniLyrics is easy to install and easy to use. It will automatically launch when you start your media player. Users who want to try this application can download it via the link here.