Skype has officially launched its new Skype for Android app which is specifically designed for handsets running on Google Android 2.1 or higher platform, enabling the Android-powered smartphone users to enjoy the power and benefits of Skype while on-the-move.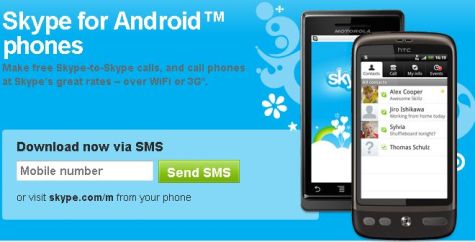 Highlights of 'Skype for Android' include:
Make free Skype-to-Skype calls over WiFi or 3G
Note: In the United States, Skype for Android calling is applicable over WiFi only
Make low rate Skype calls to landline or cellphones
Send and receive IMs one-to-one or with a group of friends on Skype
Check when Skype contacts are online and available to call or chat
Skype contacts can be synchronized with the native address book
Easily import names and numbers from native address book into the Skype app
Receive calls on their Skype online number
"The Skype experience is ubiquitous today. More and more people are using Skype to do things together when apart," commented Mark Douglas, Product Manager for Android. "With the addition of Android, we are pleased that Skype is now available on three of the most popular mobile platforms today: Android, iOS and Symbian."
Skype for Android app that compatible with smartphones based on Android 2.1 OS and above is now available as a free download from the Android Market or you also can grab the free download by visiting skype.com/m from your handset.
Watch the demo video of Skype for Android app: