The provider of interactive Internet radio service, Slacker, Inc. has announced that its free Slacker Personal Radio Mobile application is available now for BlackBerry Storm smartphones, enabling BlackBerry Storm, owners in US, in addition to BlackBerry and iPhone/iPod users to enjoy their favorite Slacker radio stations anywhere they go (whether connected to wireless network or not).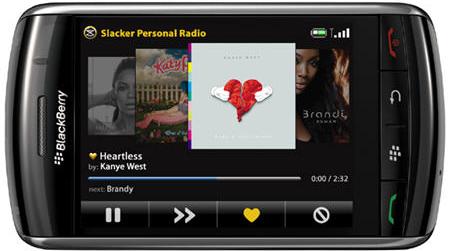 Slacker Personal Radio Mobile Application For BlackBerry Storm Offers:
Free music library featuring millions of songs
Optimized for Storm Touch Screen operation
Vertical and Horizontal modes
High-quality stereo playback from cached stations and all streaming wireless connections
Over 100 professionally programmed genre stations
Create custom artist stations
Station caching for music playback anywhere, greatly improved battery life and accelerated application performance
Multi-tasking – listen to music while doing email
View artist biographies and photos
View album art and reviews
'Peek Ahead' artist and album preview
Pause and skip songs
Rate songs as favorites
Ban songs and artists you don't like
"The Slacker Mobile application for the BlackBerry Storm offers an engaging and intuitive mobile listening experience that takes full advantage of its unique features," said Dennis Mudd, CEO of Slacker. "With an intuitive touch screen interface as well as station caching, BlackBerry Storm owners can now easily enjoy their favorite music wherever they go."
The Slacker Personal Radio Mobile Application for Blackberry Storm smartphone is now available as a free download by visiting Slacker's official site from your BlackBerry web browser.