Finally the long waited Sling Player application, the famous TV streaming service has arrived in iPhone Application Store. However, it is quite disappointing that there are some restrictions that iPhone users can only use Sling Player to do media streaming in local Wi-Fi networks but not the AT&T 3G cellular network, as differs from the pre-release version earlier.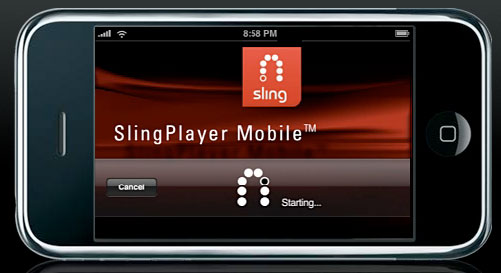 According to Mark Siegel, AT&T spokesperson, the change was initiated due to the concern that high bandwidth media streaming could potentially affect the reliability and stability of its 3G network, which is also stated in the company service agreement that prohibiting third party applications from redirecting television signal to mobile computing devices, under the same reason of downloading movies using P2P file sharing services and etc.
Regardless of official statements from AT&T, some do think that the motive behind is actually due to the giant service provider tries to reduce the threat and competition to its Mobile TV service, which is a pay service that generates revenue when users subscribe to it. Also it is arguable when some other mobile models such as Nokia 6650 or BlackBerry Bold that can still utilize Sling application to do media streaming over AT&T network without much limitation. Anyway, the Wi-Fi only sling player application is not free, and is available in Application Store for purchase at $29.90.