Looking for a smarter, more secure way to shop online with your credit card? The leading edge of eCommerce solutions, NetSecure Technologies has launched the SmartSwipe, which the company claims as the world's first truly secure personal credit card reader keeps PC safe while shopping online, protecting credit card information from malicious software attacks and even providing proactive protection against phishing sites.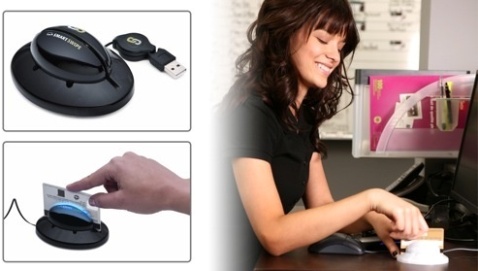 As what you see in the photo, SmartSwipe features a simple plug and play installation, just plug it into computer's USB port and swipe your credit card exactly like you would at a shop while online shopping, without the need to manually enter credit card information (saving time).
"Until now, there hasn't been an affordable and effective solution for consumers to securely protect their credit card data while shopping online," commented Daniel McCann, President of NetSecure Technologies. "Hackers have extremely sophisticated methods of circumventing traditional internet security to steal your personal information right from your computer. SmartSwipe facilitates transactions that leave no trace of credit card data, guaranteeing your information remains secure."
The innovative SmartSwipe personal credit card reader that compatible with most major credit card and credit/debit card combination including Visa, MasterCard, American Express and Discover is now available for about $88 ($100 CAD).