Softalk has announced the release of its application which called as 'Spreadsheet'. Spreadsheet is a professional tool for creating spreadsheet on the iPhone and iPod Touch. The spreadsheet provides a scrollable zoomable view, along with cell formatting features and a host of standard spreadsheet functions.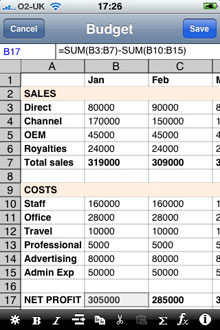 Additionally, it also includes the following features:
Including Date/Time, Math, Statistical, String and Trigonometric functions.
Including cell formatting options – bold, italic, text and background color, cell sizes and alignments.
Including support multiple cell types such as Numeric, Date, Time, Currency, Percentage and Text.
Copy, Cut, Paste, Delete Row, Insert Row  and other operation.
Support to send via the iPhone email to other people to be opened in other spreadsheet application like excel 2003 or higher.
Currently, Spreadsheet is available exclusively on iTunes for the price of $7.99.