Apple's famous 3G iPhone has been selling like hot cake in most of the countries but doesn't seem to penetrate well in Japan market. Part of the reasons is due to lacking of built in 1SEG digital TV receiver that is quite common in Japan mobile devices. Good news for all Apple's 3G iPhone users in Japan market now! Softbank, the Japanese major service provider has just announced a new add-on 1Seg TV tuner device targeted to provide digital TV access through Wi-Fi network, enabling live channels broadcasting directly to iPhone devices.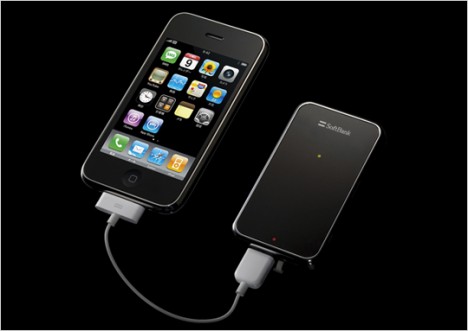 Obviously, Softbank aware of the iPhone's shortcoming and try to add better value into it to attract more consumers especially those that cannot stay without mobile digital TV in daily life. With the physical size of only 50 X 85 X 16mm, the receiver can be kept well in pocket while leaving stylish iPhone on hand to view TV channels streaming directly. Besides functioning as a 1Seg digital TV Tuner, the portable receiver is also able to act as a USB battery pack that provides external power supply to prolong both the media playback as well as talk time with significant extra three hours.
The receiver will be commercialized in mid of December at a retail price of $102. Hopefully the tiny device will be able to help Apple Inc to accelerate its 3G iPhone sale in Japan market.