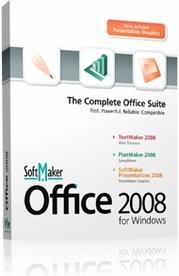 SoftMaker Office 2008 is reliable office productivity software that is designed for beginners and professional users. SoftMaker Office Suite consists of a word processor TextMaker 2008 with DTP features, a spreadsheet PlanMaker 2008, and presentation graphics program that can reads and writes all PowerPoint files called SoftMaker Presentations 2008. In addition, SoftMaker Office 2008 also comes with user-friendly interface and compatibility with Microsoft Office formats. The new SoftMaker Office 2008 has added a ton of features such as writes OpenDocument files, direct PDF export, OLE server, programming language BasicMaker (Microsoft VBA clone), VBA compatible macro programming, full screen mode, envelope generator, and booklet printing.


Features of SoftMaker Office 2008:
PDF export, OpenDocument export, OLE server, style sheet manager, envelope generator, booklet printing (several pages on one sheet),
Over 330 calculation functions
Directly and without conversion, retaining all the formatting, functions, and contents of Office files
Macro programming
Import and export of PowerPoint presentations
Numerous design templates, amazing animation effects and slide transitions
BasicMaker 2008 (the new VBA-compatible macro language from SoftMaker)
The latest version of SoftMaker Office suite is version SoftMaker Office 2010, which costs USD $79.95 for three license purchase. For a person who is looking for a Microsoft Office free alternative, and doesn't mind to use older version of SoftMaker Office, SoftMaker Software, is giving away free license for SoftMaker Office 2008, which is similar to Ashampoo Office 2008. The free SoftMaker Office 2008 giveaway is full commercial working version, with no restriction nor locked features.
To get the free license for SoftMaker Office 2008 with free serial number follow these steps:
Visit the following promotional page URL:
Fill in your name, country, email address, and choose the version, then click "Submit" button.

Note: Users can choose either Windows nor Linux version.

The SoftMaker Office 2008 serial key and download information will also be sent to the email address that is used to register.

Download SoftMaker Office 2008 : ofw08freefull.exe
Use the received serial number to install SoftMaker Office 2008
Enjoy the free full version SoftMaker Office 2008
Update: SoftMaker Office 2008 is now a freeware, and everybody can download and get personal serial number from http://www.softmakeroffice.com/register_en.htm.
Softmaker Office 2008 works in Windows 9x, Windows ME, Windows NT, Windows 2000, Windows XP, and Windows Vista.