If you are iPhone user and you are outdoor adventurer, you are going to love this latest case from brando.com.hk, i.e. a solar-powered iPhone case/charger.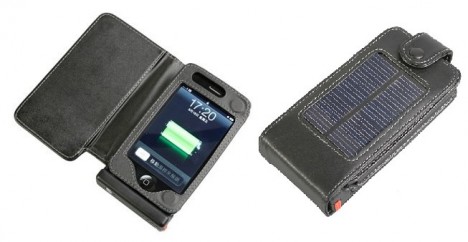 This black colored leather case comes with a built-in solar power cell on the front cover. If your iPhone runs out of battery power, all you need to do is to place this case, with iPhone plugged in, under the sun. With this, there are multiple ways to recharge the iPhone. It can be recharged directly with solar power or recharged with the built-in battery inside the case. Lastly, it is also possible to recharge with the old-goody USB power.
According to the manufacturer, the iPhone can be fully recharged in 3 hours if using the built-in battery. Whereas, it will take approximately 12 hours to recharge the iPhone with solar power.
The "Solar Powered Leather Case for iPhone 2G/3G" is sold at $48 and it comes with two options, flip-top or slide-open. The case adds about 85 grams to the telephone's overall weight.
Features:
Lithiumion polymer Battery capacity: 3.7V  1500mAh
Output voltage: 5V (max)
output current: 600ma (max) + solar battery 100 (max)
Charge voltage: solar battery 6V USB/DC 5V
Charge current: 100ma (max) + 500ma (max)
Charging ime: less than 3hours
Peak power supplied by photocell: 0.61W
Size: 125mm x 64mm x 25mm
Weight: 100g
Recharge iPhone
by built-in rechargeable battery in Solar Case
1. Insert iPhone into Solar case
2. Turn Power ON, iPhone will be fully charged within 3 hours
by Solar power
1. Insert iPhone into the Solar case
2. Turn the Power ON
3. Place Solar Case under sunlight.
Recharge Solar Case Built-in Battery
by USB Power
1. Connect USB to the Solar case
2. Four power indicators indicate percentage of power charged
by Solar Power
1. Turn Power OFF without removing iPhone from the case.
2. PlaceSolar Case under sunlight.
3. Built-in battery will be fully charged within 12 hours.
After iPhone is fully charge, turn the Power OFF.
Press the power button, four power indicators indicate percentage of power charged. (A = 25%electricity, A+B = 50%electricity, A+B+C = 75%electriciy, A+B+C+D full light = 100% of electricity)
Model:
Package Contents :
Solar Powered Leather Case
USB Cable