Sonic PDF Creator is a useful office tool for Windows that is designed to create PDF documents from any Windows application. Sonic PDF Creator comes with easy to use interface that allows users to create PDF file directly from Sonic PDF toolbar, print menu, and within Microsoft Office. In addition, it also comes with advanced 40 or 128-bit encryption security settings that provide protection against unauthorized copying or alterations of PDF files. Besides that, Sonic PDF Creator also includes PDF editing, combining, compressing, converting, attach a file into an existing PDF document, add bookmarks, and branding capabilities.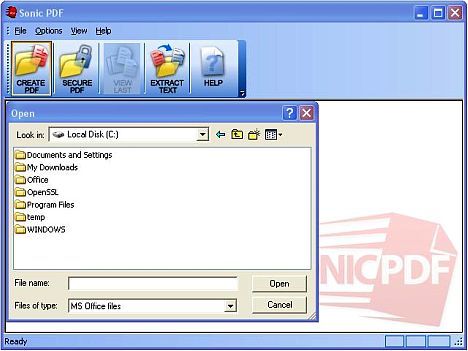 Features of Sonic PDF Creator:
Create PDF from virtually any Windows Program
Fast One-Click PDF Creation From MS Office
Secure Your PDF – Set passwords to determine who views your PDFs. Prevent access to printing, viewing, data extraction, etc.
Branding– Customize document headers and footers with images, text and more
Dragging a PDF file and dropping it into the Sonic PDF Creator program window will open the file in Sonic PDF
Sonic PDF Creator supports opening and editing multiples PDF files at the same time
Merge multiple PDF files into a single PDF file
Combine multiple PDF pages onto a single sheet
Modify title, subject, author, and keywords for the active document
A variety of PDF compression options, including text and color images, to make your PDF documents extra compact for easy sharing
Batch creation capabilities into PDF from a variety of formats, including Word, Excel, PowerPoint, RTF, HTML and a variety of image formats
Stitch two adjacent PDF pages into one page
PDF to Text extraction capabilities
Sonic PDF Creator normally cost $75 for purchase. As part of promotional offer, the developers of Sonic PDF Creator – Investintech Inc is now giving away full version of Sonic PDF Creator 2.0 for a limited time to its Facebook fans. To grab free full version of Sonic PDF Creator legally, just follow one of the below steps:
Visit Investintech Facebook Fan page and click on the "Like" button.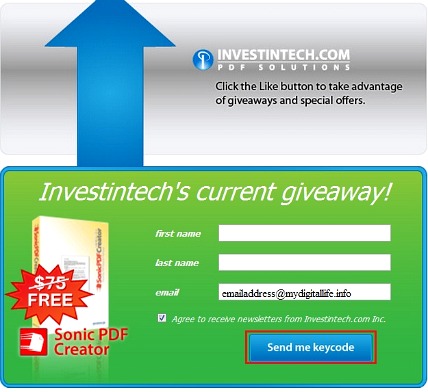 Then fill in the form by enter the name, email address, and then click the "Send me keycode" button.
Once finish registration, an email from "facebook@investintech.com" will be sent to registered email containing the registration key and download link for Sonic PDF Creator 2.0.
Sonic PDF Creator 2.0 supports Windows 98, ME, Windows NT 4.0, 2000, XP, Vista and Windows 7.