Good news to all Sony Bravia Internet Video Link Service users! Sony has just announced the availability of the new Internet services from Slacker, an online radio broadcaster as well as Howcast Media, a how-to-videos service provider on top of those currently available services from YouTube, Amazon Video on Demand, CBS, Sports Illustrated and more that will stream online services directly to its HDTV in living room.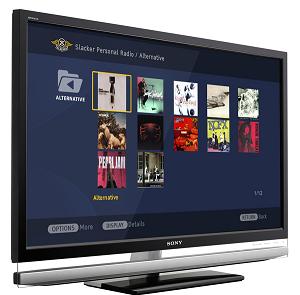 As of today, Slacker has provided millions of online music with more than 100 programmable personal stations for its subscribers. With such a wide music collections, the service allows its subscribers to set their own profiles so that they can personalize their own favorite songs, artists and etc to stream music selectively to their HDTV sets. At the same time, Howcast, the top website selected by Time Magazine also offers around 100 series of how-to video channels such as famous Hot How-To's, Health and Beauty, Fun and Games and etc.
Similar to other online services, both Slacker basic and Howcast's services are free of charge and what users need to have is the broadband access and of course Bravia Internet Video link module, an add-on module that costs around $300 targeted to enable Sony Bravia TVs with Internet connectivity function. While currently the service is only limited to Sony Bravia, we should expect to see more LCD manufacturers to integrate this Internet Video link module directly to enjoy both Audio/Video on Demand from online service providers.