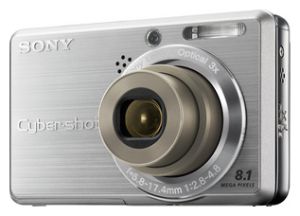 The Japan-based consumer electronics giant, Sony has recently announced its two new Cybershot S-Series entry-range digital camera, named as Cyber-shot (7.2-megapixel) DSC-S750 and (8.1-megapixel) DSC-S780. Both of them feature 3x optical zoom and Sony's face detection technology which able to identify up to three faces in the camera's 2.5-inch LCD frame, aiming to adjust focus and exposure for well-exposed, natural-looking photos.

"Face detection is just one of the technologies we're introducing to help customers take better photos more easily," said Phil Lubell, director of marketing for digital cameras at Sony Electronics.
The latest Sony Cyber-shot DSC-S750 will be available in coming March for around $150, while the Sony DSC-S780 will ship by April for about $180.