Sony, the US market leader in the hard disk format has introduced five new HDD models for its 2007 Handycam camcorder lineup. DCR-SR42 is amongst the new camcorders to watch out for. It's cool, attractive and highly advanced.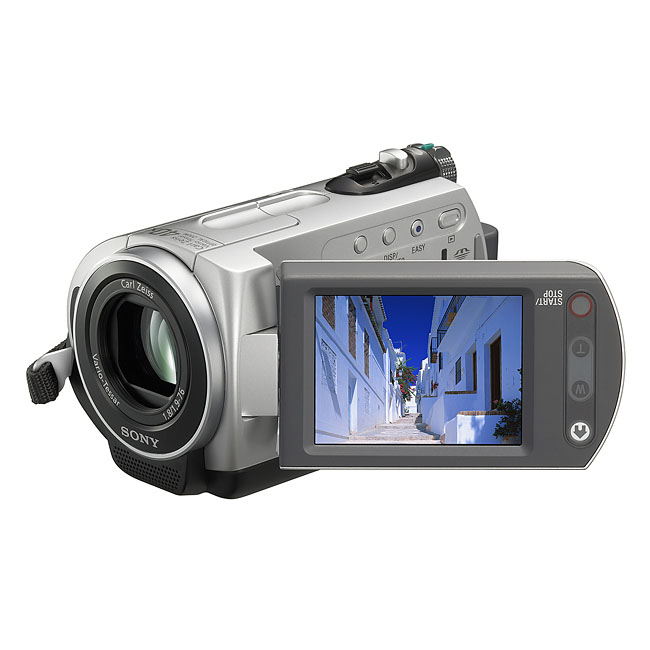 Sony DCR-SR42 has a 30GB hard drive and despite the large amount of disk space, it is compact and weighs only 310g. With the 30GB hard-drive, you can shoot up to 20 hours of video using the lowest resolutions or 7 hours of video using higher resolutions. This camcorder offers a 40X optical zoom to capture action up close. In addition, the digital zoom interpolation means that extreme digital zooming is clearer, with less distortion than previous types of digital zooms.
This camcorder comes with a 2.5" Touch Panel SwivelScreen LCD Display. This high resolution 123K pixel LCD screen can rotate up to 270 degrees for multiple viewing angles, providing sharp, detailed images for monitoring or playback.
The supplied battery lets you shoot continuously for just over an hour and an half, while an optional lithium-ion battery will last up to 10 hours. DCR-SR42 also has additional slot for a Memory Stick Pro Duo card to store still photos. You can capture still images of up to 640 x 480 resolution.
Sony DCR-SR42 also offers you Super Nightshot Plus Infrared system which allows you to capture natural-looking video when you shoot in low light and also allows you to record subjects up to 20 feet away using the built-in infrared system.
Other features from this Sony DCR – SR42 include Super Steadyshot Picture Stabilization System, Professional Quality Carl Zeiss Vario-Tessar Lens, On Screen Zoom, etc. You can read more from Sony.
Selling at $600, DCR-SR42 is small, easy to carry and convenient to use. Having said that, due to the light weight feature of this device, its use may result in some shaky pictures if you're not careful while shooting.