Sony Ericsson has announced a new cool, innovative accessory for Google Android-powered smartphones running Android OS 2.0 and above, named as Sony Ericsson LiveView. It's a wearable, wireless (powered by Bluetooth) 1.3-inch remote-controlled micro OLED display (128 x 128 pixels) which is designed to mirror the activities of compatible handsets. With Sony Ericsson LiveView, users can manage their mobile phones such as read SMS, check who're calling in and get instant notifications of Tweets and Facebook updates, as well as control music playback – all without the need to get their mobile phones in hand.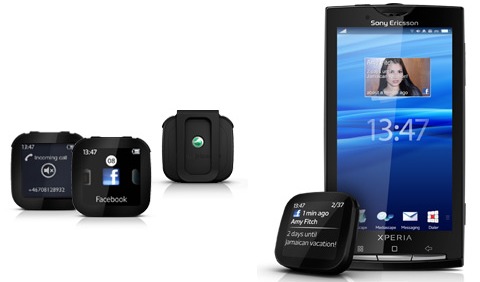 "The Sony Ericsson LiveView is the first Sony Ericsson accessory to be compatible with the open Android platform which gives developers an opportunity to be creative and develop the next must-have innovative application," said Mikael Henriksson, Head of creation and offering planning for Sony Ericsson Extras.
In addition, Sony Ericsson LiveView also can perform as a calendar reminders, bundled with a a wrist band for added convenient (wear it as a watch), supporting up to 4 days of usage time.
Besides, Sony Ericsson has developed the Sony Ericsson LiveWare Manager application which created for enabling users to easily search Sony Ericsson LiveView enabled apps, aiming to deliver an unique experience.
The tiny, cool Sony Ericsson LiveView which measures 11 x 35 x 35 mm and weights just 15 grams is expected to be available beginning Q4 2010 but no words on its price details yet.
Watch the demo video for new Sony Ericsson LiveView: