Sony has announced a recall on its Cyber-shot DSC-T5 digital cameras recently after discovering a defect on its metal casing in certain batches that had already been released to market. There are total of 350,000 units, with about 284,000 sold world wide and 66,000 units sold in Japan being affected under this recall action.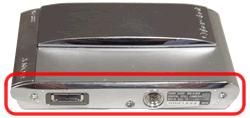 The recall was triggered after few complaints from the field since the product went on sale back to September 2005. The problem is caused by weak adhesive strength that could cause warping of the metal plating at the bottom of the camera, creating a dent that potentially injures the consumers' hands when holding on it. It does not affect the functionality of the device but may pose more serious safety issue to the consumers.
The serial number of the batches that were affected range from 3500001 to 3574100 and the issue has been rectified since then. For more information, consumers are urged to visit Sony official recall website or go direct to the nearest service centers for free replacement.