Nowadays, hard disk storage space is so huge that nobody bothers to find out what it is used for. But if you would like to know what is your hard disk composition, Space Sniffer can map it out for you in simple Treemap visualization layout so that users can clearly perceive an aerial view of the hard disk content.

Space Sniffer is a free portable disk analyzer which will scan through users' hard disk upon execution and present to users the hard disk storage in spatial form. All files and folders in the hard disk will be shown as color boxes of various sizes in real time. Any immediate changes such as rename or delete files will be reflected in the layout itself. The overall layout presented by theses boxes is zoomable. Users can double click a small folder box which represents a folder for a closer look. Users also can single click on any box for the detailed content of that respective file/folder. This tiny application also allows users to customize the color code for better visualization.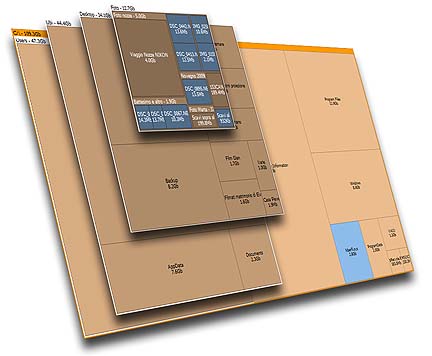 SpaceSniffer is compatible with Windows OS. Since it is free and portable, users can download the 900KB file in any portable drive to use. Users can download it via the link here.