HD resolution is no longer something new and display technology has been trending towards 3D and in order to cater for such requirements, Spatial View has developed an app targeted for iPhones and Android based smartphones. Named as 3DeeCentral, it is an online source for stereo 3D contents that can be viewed on conventional iPhones/Android smartphones with 3DeeSlide app and special hardware screen support.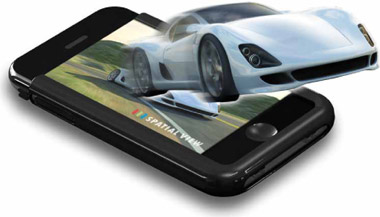 The 3DeeSlide app will work with its special hardware solution that will enhance 3D viewing capability on normal iPhones/Android smartphones and allows greater experience of glasses-free stereo 3D on the move. Good thing is, it works for both portrait and landscape mode with touch screen support just like how it is capable to. Supported by its online store, it consists of a full library with both free and paid 3D stereo media contents which is still in growing trend.
Currently the iPhone app is already submitted pending final approval in AppStore, while Android app in undergoing development now. Without the need to spend too much to get the 3D viewing, the iPhone special hardware screen is believed to cost merely $20 for 3G and 3GS models, and additional screens will be available soon for iPad and Android smartphones in short future.