Technically what makes a graphics management program or tool the best depends upon the users' needs and their experience in using the application thus far. A graphics management tool with various fantastic features doesn't mean it is suitable for users who just need a simple viewer to view the digital photos. If your job requires you to view thousands of digital images and manage them accordingly, probably you will find a small and fast image viewer such as FastPictureViewer just nice for you.

Designed for professional photographers, FastPictureViewer is a customized program to focus on one particular task: browse entire folders of digital photos as quickly as possible. For users who need to review and rate the digital images rapidly, this tiny application would be ideal. This image viewer is fully compatible with Windows Vista. Its remarkable features include Unicode support, color management with support for custom profiles, EXIF shooting data, RGB histogram, drag & drop support, magnifier support, full-screen view, configurable, plug'n'play and windows shell integration, Adobe XMP and Windows Vista rating, JPEG XR support, and optional DirectX/Direct3D graphic acceleration.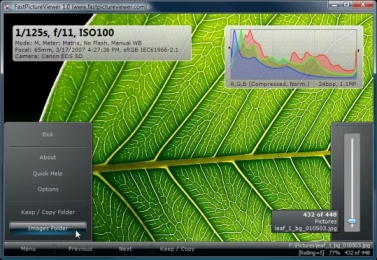 FastPictureViewer Screenshot
FastPictureViewer home basic edition does all of the above and it is available free of charge. Users can download the latest FastPictureViewer 1.0.48.0 and enjoy it indefinitely. However, home users need to keep it up-to-date by installing the most current version every 3 months. Unlike the home basic edition, FastPictureViewer has added more features and functions. For instance, FastPictureViewer Professional Edition adds support for web and Windows formats such as PNG (with per-pixel alpha), GIF (with transparency), BMP, RLE, DIB, ICO, TIFF support with metadata embedding and DNG, along with support for previewing a number of RAW formats from digital cameras manufacturers and 3rd-party codec providers. FastPictureViewer Professional costs approximately $29.90.
Minimum system requirements:
Windows Vista
Windows Server 2008
Windows XP Service Pack 3 (SP3)
Windows XP Service Pack 2 (SP2) with Windows Imaging Component (WIC)
Windows Server 2003 Service Pack 2 (SP2) with Windows Imaging Component (WIC)
Direct Download Links:
FastPictureViewer Home Basic Edition 1.0.48.0 (1.48MB)