It is common to share a YouTube video to friends by sending the URL via email or embed the video into websites. Some of the videos may take long time to play but if you just want to show them a portion of the video, what you can do is to ask them fast forward the video to the specific time, but this could be very troublesome and some people may not have patient to do so. Now, there is a free online utility named as Splicd that enables you to split video to specific timeframe as preferred. Once completed, it will auto generate a customized URL that will start and stop at any time you have defined and can be shared to anyone.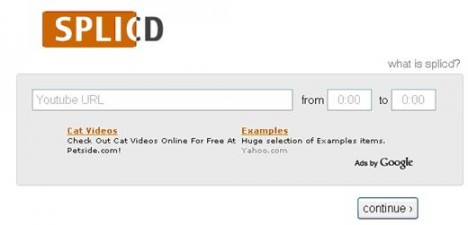 <
In order to split the video, what users need to do is just copy the URL from Youtube and paste it in this website http://www.splicd.com/. User can define the specific time frame where they would like to start sharing the video by keying into the empty boxes appeared besides the URL. Then click on Continue button and it will bring you to next page where a new URL with the desired play time will be generated. Within that page itself, users have few options to either 'share'- share to all, 'view original' – view original source file in YouTube, 'play all' – play all video file in Splicd or 'play splicd' – play the new edited video files. Typically, just click on 'play splice' and it will show spliced portions of the video clip at own preference.
Hopefully with this simple yet useful website service, users will be able to share what they intend to share that makes the whole video sharing process a much more pleasurable one while surfing online.