Samsung Mobile and Sprint have announced the launch of the successor to award-winning Samsung Instinct, named as Samsung Instinct HD, which combines large 3.2″ touch screen, 5MP camera/camcorder, GPS, Wi-Fi, full Opera Mobile 9.7 browser and HDTV out capability in a single device, boasting an attractive and intuitive UI as well as the high-speed connectivity of America's most dependable 3G network (EVDO Rev. A).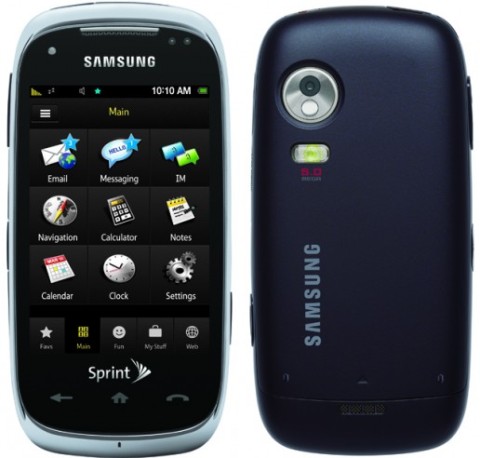 "Samsung Instinct HD ups the ante with the full Opera Mobile 9.7 Web browser, WiFi connectivity and a 5-megapixel camera and camcorder, which allows the user to take high resolution pictures and HD-quality video," said Omar Khan, senior vice president of strategy and product management at Samsung Mobile. "What sets Instinct HD apart even more is the ability to view those pictures and video on your HDTV or other HD-compatible monitor through the device's HDTV out connection. These improvements raise the Instinct handset portfolio to a whole new level."
Main Features Of Samsung Instinct HD:
5 megapixel autofocus camera and camcorder with HD video out and flash
3.2-inch TFT touchscreen display with 320 x 480 pixels and 16M vibrant colors
Built-in GPS, Accelerometer, Ambient Light Sensor, and Proximity Sensor with haptic feedback
Advanced stereo Bluetooth wireless technology and Wi-Fi 802.11 b/g
Full Opera Mobile 9.7 web browser
SMS voice and text messaging with threaded text
Mobile Sync restores contacts if the handset is lost, stolen or damaged
Speech to Action button provides many functions using voice activation including call, text, traffic, movie, sports, news and search
Supports Visual Voicemail, Live Search for Sprint, Sprint TV and more Sprint's services
Easy access to 'hot' social networking sites, including Facebook, Flickr and Twitter
Supports up to 5.8 hours continuous talk time
"When Instinct was announced last summer it received tremendous praise from our customers and showcased the power of application integration and a world class user-interface," said Kevin Packingham, senior vice president of product development at Sprint. "Instinct HD adds to that legacy with the addition of a host of video services that are unmatched in the industry."
"We are excited about adding Instinct HD to our ever-growing assortment of smartphones at Best Buy Mobile," said Jude Buckley, chief merchant and marketing officer of Best Buy Mobile. "Last year's launch of the original Instinct was a big win for Sprint and Best Buy and, most important, for the customers we serve together. We expect the same from Instinct HD. Bringing this latest smartphone to our table will offer customers even greater choice and options as they look to upgrade to a smarter phone."
The sleek, stylish Samsung Instinct HD which measures 4.63 x 2.28 x 0.50 inches and weights in at 4.01 ounces is scheduled to be available at Best Buy Mobile (Sprint's exclusive national retail partner) starting September 27, and will hit Sprint stores beginning October 11 for about $250, after a $100 mail-in rebate and a new two-year contract.