Good news for Sprint customers who sign up for Sprint Total Equipment Protection plan! Sprint has launched its new, free Total Equipment Protection (TEP) App for Android and BlackBerry devices, which includes an array of advanced features to track/locate your lost, stolen or damaged mobile devices. In order to protect and secure your private and confidential information stored on the lost smartphone, Sprint's TEP App also allows for erasing, backing up and restoring your lost smartphone's personal contacts.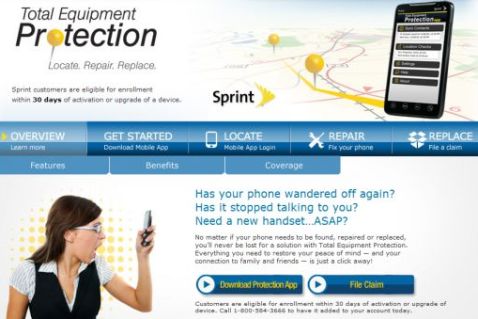 "Anyone who has lost a phone knows that their personal information is possibly just as vulnerable as if their computer was hacked," commented John Carney, senior vice president for consumer marketing at Sprint. "Now, Sprint customers have peace of mind knowing that their personal and private information is safe. TEP and this accompanying application is a safeguard for customers who want protection from not only loss, but misuse and unauthorized access."
Key Features Of Sprint's Total Equipment Protection (TEP):
Turn on your smartphone's alarm even if in silent mode to locate the lost device
Real time tracking thanks to GPS technology
Check your smartphone's location history on a map through Web interface
Remotely lock their lost or stolen smartphone
Remotely delete your personal contacts in the address book on a lost/stolen smartphone
Backup, manage as well as restore your precious contacts
The free Total Equipment Protection App that supports BlackBerry and Google Android platforms is included as part of Sprint Total Equipment Protection plan, which is priced at $7 monthly per line of service.