Smartphone and Windows Mobile Pocket PC (PPC) Phone users should have familiar with Sprite Backup from Sprite Software, which is one of the leading backup solution for mobile device to secure all data, every application, contact, message and configuration effortlessly and automatically. Virtual Mobile is a new online service from Sprite Software that allows users to backup and remote control the mobile phone via web browser.

In another words, Virtual Mobile is an over the air integrated backup solution, device management, security and remote control service, effectively incorporating some of the best features of Sprite Backup, Terminator and Archie.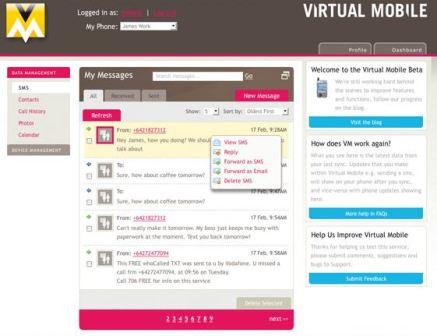 Features of Virtual Mobile and what it's capable to do including:
Backup and manage contacts, calendar, SMS (text messages), photos, calendar
and call history securely online.
Control up to four phones from one VM account.
Restore, move, transfer, export or migrate your data across different phones.
Remote Mobile Device Security like Remote Lock and Wipe.
Management of phone content and functions online.
Remote control and phone from desktop with Internet access to send an SMS, create or update a contact, organize photos and view or add events to calendar.
Virtual Mobile has been moved into public beta, and hence everybody can register and sign up to use Virtual Mobile for free without any invitation code or invite code. During the beta phase, Virtual Mobile will be a free service. The developer expects that by Q3 of 2009, a small subscription fee may be imposed to offset the cost of running the service.
Register for Virtual Mobile at https://www.virtualmobile.com/secure/UserRegistration.aspx. User will then have to install VM application from http://m.virtualmobile.com or use the PC installer. Currently, only Windows Mobile and Symbian phones are supported.