Sun Microsystems has added native Mac support to its latest version of StarOffice productivity suite. StarOffice 9 is the first version with native Mac support that aimed to be a low cost alternative to Microsoft Office. Apart of that, StarOffice 9 is also an open source and its code is shared with OpenOffice.org 3.0 which was released last month.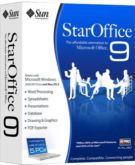 With the latest release of StarOffice 9, the product also added support to read Open XML file which introduced by Microsoft in Office 2007, but it can't written back or saved into that format. According to StarOffice Product Manager Iyer Venkatesan, StarOffice may add the full Open XML support feature in future if the market requires or requests it. Beside that, it also support other files format like Open Document Format (PDF) which have read and edit mode.
The software cost $35 for individuals and $25 for each user inside a business.