The long overdue Skype 4.0 beta has finally arrived for public testing. This new web communications application comes with a newly designed unified interface and features more interesting functions to make web communication easier and more productive. Non-tech-savvy users can easily configure and set up the free or low cost web communication facility and keep track of their communication records.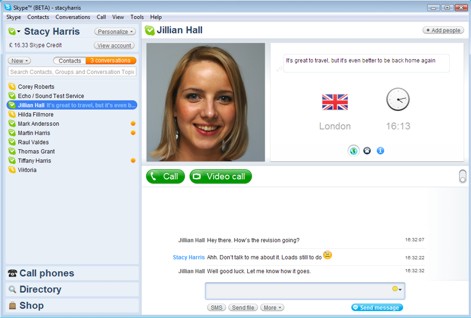 The new Skype V4.0 has made substantial improvement to its existing features. It has incorporated auto-detect features to detect computer settings, available bandwidth, etc. This will help non-technical users to set up and start the web communication service. Besides, it has also improved its photo or video quality. Users can post higher resolution photos and enjoy full-screen resolution video using Skype 4.0.
With Skype 4.0, Skype users can continue making international computer-to-computer calls to their friends in most countries for free. Users can also use Skype-featured phones or computer to landlines or cell phones at a pretty cheap rate. The free instant messaging feature available will allow users to send text messages, share files or even video chat to computer or with their mobile phone.
Skype 4.0 Beta will continue to improve its features from time to time. Users can give Skype 4.0 a try via the link here.
Update: Skype 4.0 Final