Do you want to stay updated with your favorite website, such as online stock or online news so that you can be updated immediately once the news is released? Instead of wasting time to check the website manually to see if there is anything new or whether it is online, now there is a utility, named as Web Pages Monitor can help you monitor and alert you immediate when there are any changes to the website as well as keeping you posted with the web server availability.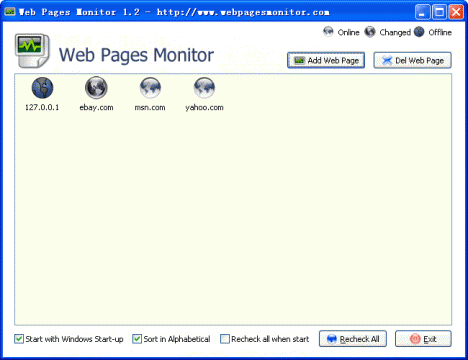 Web Pages Monitor is a free utility which can monitor web pages in every pre-defined interval automatically at background and will send you an alert message at the task bar if there is any changes to the web pages or web server offline. This freeware is windows standalone software and is easy to use. It provides the option for you to set the frequency of checking the web pages from minutes up to hours or days. It supports all types of web pages with textual content such as html, jsp, php, asp and binary files, as long as they can be accessed through HTTP, HTTPS and FTP protocols. On top of this, you can set this tool to be up when windows start-up and you will be able to monitor unlimited number of web pages.
Web Pages Monitor only consumes 1.73 MB of your hard disk space and is worth to be installed in your PC to help you monitor any web pages in your daily life at no cost. Click here to download Web Pages Monitor version 1.2.